Introducing the flora of Mairy Cairncross Scenic Reserve
This Sunshine Coast rainforest reserve is a particularly rich subtropical rainforest which had very limited logging of highly prized timbers prior to about 1935, and none since. There is a good distribution of old Australian Red Cedar, Black Bean, Yellow Carrabeen, White Beech, Tulip Oak and many very large Strangling Figs among the rich profusion of rainforest trees. In the wetter areas the dominant trees are Piccabeen Palms.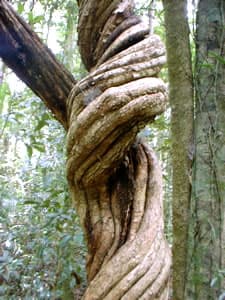 There is a good understorey, including Walking Stick Palm and Lawyer Palm. Three very old Rose or Flooded Gums survive from an ancient fire episode. For further information on some of our characteristic species click on a link below.
Click here for the Mary Cairncross Scenic Reserve complete plant species list (PDF File, 92 KB).