Edible treasures from the Traditional Custodians
Acknowledgement is given to the traditional inhabitants of the Blackall and Conondale Ranges and adjacent areas – including the Jinibara, Kabi Kabi (pronounced Gubbi Gubbi), Undanbi, Nalbo, Dallambarra and Wakka Wakka peoples. The various clan groups utilised resources from forests of this area and possessed an extensive and intimate knowledge of their landscape and its resources. They practised sustainable land management principles for thousands of years.
Plants and animals found here were an essential source of food, shelter, medicine, tools and weapons. The Obi Obi Creek, running through the nearby Maleny township, was named after Ubie Ubie. He was the esteemed chief warrior of the Nalbo Clan which lived along the eastern slopes of the Blackall Range. 'Nalbo' is thought to refer to the gum of the hoop pine, and was used as a glue.
Rainforests provided abundant seasonal foods. Major seasonal food bounties attracted many visitors. During fruiting season, turkeys and pigeons were plentiful.The months of August and September provided turkey eggs while December to March was the bunya nut season. People sometimes then moved to the coast to feast on fish. Bush honey and bunya nuts were especially prized. The most common fruits and vegetables gathered included quandong, raspberries, yellow berries, yams, native fern roots and cabbage tree palms.
The creeks yielded fish, yabbies and eels. The forest provided a variety of marsupials, lizards, snakes and echidnas. Brush turkeys were hunted and trapped. Waterfowl were caught and their eggs gathered, as were insect larvae, manna and lerp.
Edible treasures from the Traditional Custodians
Bunya Pine or Bon-yi Bon-yi
(Araucaria bidwillii)
This was an important food. The nuts were eaten raw although generally roasted whole or after pounding into a meal. Seeds were also buried in mud until they sprouted, then roasted for a better flavour. The thick end was then cracked with a stone, "otherwise it would go off with a pop and shoot everywhere". The trees fruit most abundantly every three to four years. On these years, large numbers of Aboriginal people gathered at nearby Baroon Pocket Dam to feast on these nuts, arrange marriages and initiations, settle tribal disputes and hold corroborees. Some men had usufactory (harvesting) rights to specific trees.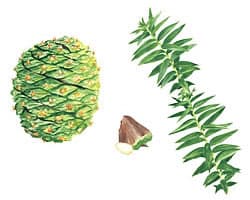 Creek sandpaper fig (Ficus coronata)
This fig tree has brown-purplish fruit which could be eaten raw (after processing) or cooked. The leaves were used as sandpaper (for example, sharpening spears) and the wood used for implements and weapons.
(Illustration by Janet Hauser)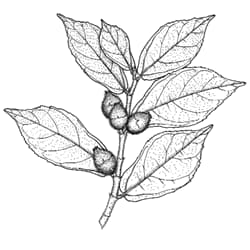 Supplejack (Flagellaria indica)
The astringent leaves were used to heal wounds. The stem was used as a water source. Sap from the leaf tips was applied to sore eyes and also used as a contraceptive. It was used as rope for tree climbing and was woven into fish traps and nets.
(Illustration by Robyn Graham)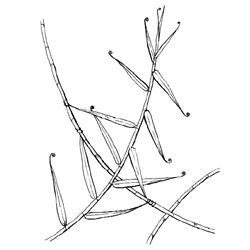 Tiger orchid (Dendrobium gracilicaule)
This was a staple food. The roots were ground up, after being dried for a month, and toasted like a bunya nut.
(Illustration by Robyn Graham)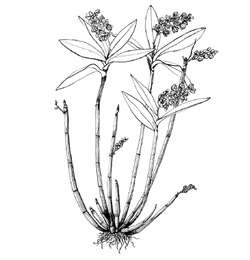 Native Ginger (Alpinia caerulea)
The ginger flavoured pulp of fruits, stems and roots was eaten raw. The leaves were used to wrap around or add flavour when cooking. The fruit was opened and the filament was tasty but the seeds were spat out. Aboriginal pathways through the forest could be detected by the trail of discarded seeds.
(Illustration by Janet Hauser)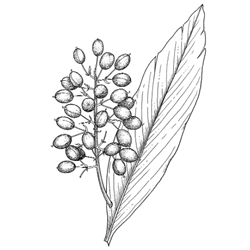 Tree Fern (Cyathea cooperi)
The apex of the trunk contains a core of white starch which was eaten raw or baked. Unopened fronds were eaten raw or after roasting.
(Illustration by Robyn Graham)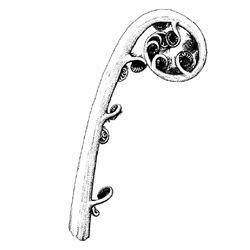 Black Bean (Castanospermum australe)
Another staple food of the Aboriginal people. Seeds were finely sliced, soaked in running water and pounded to remove toxins (a poisonous alkaloid) then made into cakes or meal and roasted.
(Illustration by Robyn Graham)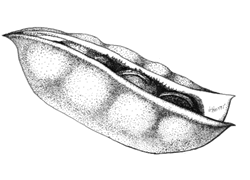 References
Kelly P. Tree Fern and Honey Bee, 1992. A Study of Aboriginal Australian Ancestors of the Mapleton District
Symons, Pat & Symons, Sim, 1994. Bush Heritage
Low, Tim, 1991. Wild Food Plants of Australia. Mace M, Turrawan Centre