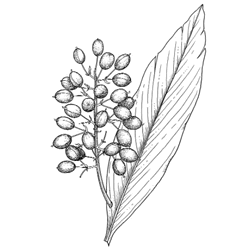 (Illustration by Janet Hauser)
This glossy foliaged understorey plant is related to cultivated ginger and grows naturally in the moist conditions of our local rainforests. It has small white flowers and bunches of attractive blue fruit. The fruit was peeled and the spicy white flesh surrounding the seeds eaten by local Aborigines.
Native ginger is a clumping plant and consists of soft, thick stems rising from an underground rhizome. They grow to about 2m and like plenty of water and some shade. The large bright green leaves are up to 40 cm long.